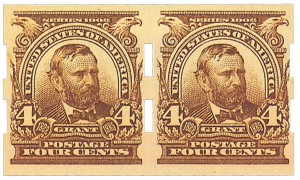 Chairperson:
Melvin Getlan
17137 Northway Circle
Boca Raton, FL 33496
We currently concentrate on the well-known manufacturers of private perforations, those used in vending machines or not. But we are open to expanding into other producers, such as Legg, Dunning and Wilson. The committee also produces a newsletter on an irregular basis.
With the issuance of the 2016 Scott's Specialist Catalog this Fall, the Vending & Affixing Machine Perforation section will be entirely new. The changes will include for the first time a listing of known strips and blocks. This will not only provide additional information for new  comers but for seasoned collectors as well.